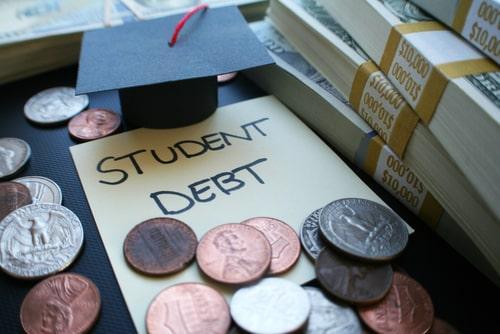 Student loan debt is something that is becoming an issue in the United States. According to the latest statistics from Forbes, there are currently an estimated 45 million borrows who collectively owe about $1.56 trillion in debt for student loans. Of those, around 11 percent are delinquent on their loans, which means they are 90 days or more late on a payment. For many borrowers, student loan payments are expensive and they are struggling to make ends meet. Many have inquired as to whether or not student loan debt is dischargeable in bankruptcy, but the answer is not quite as simple as a "yes" or "no."
Is it Even Possible?
Many people believe that student loans are ineligible to be included in a bankruptcy and they would be correct -- but only in most situations. It is not impossible to discharge your student loan debt in a bankruptcy case, but it will make your bankruptcy more difficult because you will have to file an adversary proceeding to determine whether or not you are eligible to have your student loans discharged.
Determining "Undue Hardship"
During the adversary proceeding, the court will determine whether or not you have demonstrated that paying your student loans has caused you "undue hardship." The difficulty with this determination is that it was never actually defined and was therefore left up to individual courts and judges to determine. The most commonly used test to determine eligibility for student loan discharge is called the Brunner Test and consists of proving three simple points:
You cannot maintain a minimal standard of living in addition to supporting your dependents if you continue to pay the debt
Your financial distress is likely to exist for a majority of the repayment period of the loan
You have made good faith efforts to repay the loan thus far
Contact a San Antonio, TX Bankruptcy Attorney
If you are having difficulties making your monthly student loan payments because you also have other types of debt, such as credit card or auto loan debt, you still may have options. At the Law Offices of Chance M. McGhee, we can help you determine whether or not you should pursue bankruptcy and include your student loans in your discharge, or if your best option would be to take another route. Our skilled New Braunfels, TX bankruptcy lawyer can help you through the bankruptcy process from beginning to end. Call our office today at 210-342-3400 to schedule a free consultation.
Sources:
https://www.studentloanborrowerassistance.org/bankruptcy/#:~:text=Home%20%C2%BB%20Bankruptcy-,Bankruptcy,has%20shown%20an%20undue%20hardship.
https://studentaid.gov/manage-loans/forgiveness-cancellation/bankruptcy
https://www.forbes.com/sites/zackfriedman/2020/02/03/student-loan-debt-statistics/#f9cfa89281fe