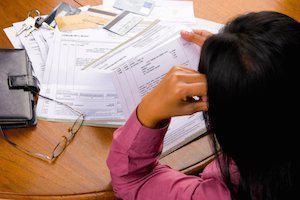 All of us struggle with finances at one time or another. However, for many people, that struggle may become overwhelming and feel as if it is never-ending. For those people, bankruptcy can often be the first step to gain control over their financial future.
There are certain signs that financial advisors point to as red flags that your debt has become unmanageable and bankruptcy should be considered. These signs include:
The balance of your credit card debt continues to increase, yet your monthly income is either staying the same or has decreased;
You pay only the minimum amount due on your credit cards. Some months, you pay even less than the minimum or completely miss the payment;
You have multiple credit cards and they all have balances on them;
When you receive an offer for a new credit card, you immediately apply;
You are using credit cards to pay credit card bills. If you have applied for a credit card, only to take cash advances in order to pay other credit card bills, that is a definite red flag to serious financial trouble;
You are close to or at the limit on most or all of your credit cards;
You are charging more each month on your cards than you are sending in for your monthly payment;
You are using your cards to purchase food, gas, utility bills and other life necessities;
Your credit cards are no longer used for 'extras' or for convenience sake. Instead, you are using them because you do not have any money;
The phone is ringing and letters piling up in your mailbox about your late bill payments;
You do not know the true amount of what your total credit card debt is, and you do not want to know.
If you recognize your situation in this list, then it may be time to consult with an experienced San Antonio bankruptcy attorney. Find out what your best options may be to help and get you back on the road to financial recovery.