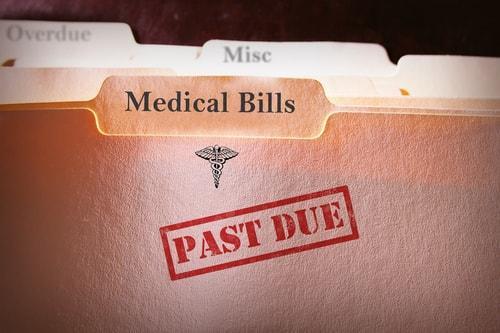 Most of the time, a person files for bankruptcy because it is the last option for bills that cannot be paid. After all, a bankruptcy on your record can diminish your credit score and make it difficult to borrow money for items like a house or a car for years. When a person files for bankruptcy, it is because they have exhausted all other options. Unfortunately for many Americans, the thing driving them to file for bankruptcy is medical debt. According to CNBC, 66.5 of all bankruptcies filed in the United States between 2013 and 2016 were tied to medical issues such as high costs for medical care or taking time off of work for medical reasons. If you have found yourself in the precarious situation of too much medical debt, here are a few things you should know before you file for bankruptcy:
Your Medical Debt is Dischargeable in Bankruptcies
Here is the good news -- medical debt is dischargeable in both Chapter 7 and Chapter 13 bankruptcies. The type of bankruptcy you file for will entirely depend on your financial situation and which option would make more sense. A Chapter 7 bankruptcy would completely eliminate your medical debt, while a Chapter 13 bankruptcy would reorganize your debt into manageable payments.
There is No Such Thing as a Medical Bankruptcy
Technically, there is no such thing as a "medical bankruptcy"; there is no bankruptcy that can only discharge your medical debts. If you have medical debt and you file for bankruptcy, it is treated as an unsecured debt, which is in the same realm as credit card debt, personal loans and utility bills. Filing for a Chapter 7 bankruptcy would wipe out ALL of your unsecured debts -- not just your medical debt.
There May Be Other Ways to Repay Your Debt
Before you make the decision to file for bankruptcy because of medical debt, you should make sure that you have absolutely no other options. Once you realize you are becoming overwhelmed with medical bills, you should immediately contact your hospital or health care provider to see if they offer any type of repayment plans. At the very least, you should inform them that you cannot pay the entire amount, but will pay what you can. If medical bills are preventing you from paying your rent or mortgage, utilities or other important bills, you may want to consider filing for bankruptcy.
Hiring a Boerne, TX Bankruptcy Lawyer Can Make Your Life Easier
If you are overwhelmed with medical debt, filing for bankruptcy may be your best option. At the Law Offices of Chance M. McGhee, we can look at your financial situation and help you determine whether or not filing for bankruptcy to help with your medical debt is in your best interest. Our skilled New Braunfels, TX bankruptcy attorneys have years of experience under their belts and are prepared to guide you throughout the bankruptcy process. Call our office today at 210-342-3400 to schedule a free consultation.
Sources:
https://www.thebalance.com/what-to-know-about-filing-medical-bankruptcy-4159606
https://www.thebalance.com/practical-steps-to-file-medical-bankruptcy-4158129
https://www.cnbc.com/2019/02/11/this-is-the-real-reason-most-americans-file-for-bankruptcy.html