5 Tips for Dealing With Stress Related to Debt and Bankruptcy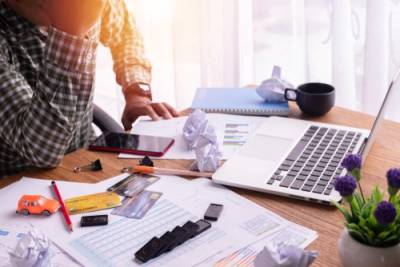 Issues related to money are a common source of stress for many people. Families can sometimes struggle to cover their ongoing living expenses, especially in times when prices for many products are rising and unexpected expenses can arise suddenly. These issues can be compounded by debts. If a family is struggling to pay what they owe while also meeting their ongoing needs, they may be receiving constant calls from creditors, and they may be concerned about how this will affect their overall finances and their ability to maintain ownership of their home or other property. In these situations, bankruptcy may be an option for debt relief, but filing for bankruptcy can add additional stress, especially when a family does not know what to expect during this process. If you are struggling with debts and considering bankruptcy, you can help alleviate your stress by following these tips:
Avoid blame - Debt is often seen as a personal failing, and those who are struggling financially may feel that they are to blame for their situation due to irresponsible behavior. However, in many cases, overwhelming debts occur because of circumstances that are out of a person's control, such as serious health issues that lead to large medical bills while affecting their ability to work and earn an income. Regardless of the reasons for your debt, you can help avoid negative emotions by deciding to put these issues in the past and determine how to move forward and regain control of your financial situation.

Gain a better understanding of your financial situation - In many cases, stress related to debt is based on uncertainty about the extent of what is owed. It is often a good idea to obtain a copy of your credit report to make sure you fully understand your debts, and you can also take steps to address your ongoing expenses and determine how much disposable income is available to you.

Understand your bankruptcy options - Depending on the types of debts you have, the amount of income you earn, and whether you are looking to avoid the loss of certain assets, you may choose to pursue either a Chapter 7 or Chapter 13 bankruptcy. By discussing your options with an attorney, you can make sure you understand the best ways to move forward and receive relief from your debts.

Make a plan - As you work to regain financial stability, you can help avoid stress and uncertainty by creating a budget that will allow you to cover your ongoing expenses, save money when possible, and avoid additional debts that may cause financial difficulties in the future.

Get help when you need it - Dealing with debt can be difficult on your own, and even if you are working with a skilled lawyer to ensure that you follow the correct steps during the bankruptcy process, you may still feel overwhelmed by all the details you need to address. You can seek help with the emotional issues related to debt and bankruptcy by discussing your concerns with trusted family members or friends or receiving therapy from a mental health professional. You may also want to consult with a financial advisor who can help you take the proper steps to maintain financial stability in the future.
Contact a New Braunfels Debt Relief Lawyer
As you determine the best ways to address your financial situation, you will want to get legal help from a lawyer who can help you understand your bankruptcy options. At the Law Offices of Chance M. McGhee, we will work with you to file for bankruptcy, make sure your debts are addressed correctly, and ensure that you will be able to regain control of your finances. Contact our Schertz bankruptcy attorney at 210-342-3400 to schedule a complimentary consultation today.
Sources:
https://www.nbcnews.com/better/lifestyle/7-tips-deal-debt-stress-ncna1094076
https://money.usnews.com/money/personal-finance/articles/2013/01/18/surviving-the-emotional-toll-of-bankruptcy
https://www.empowher.com/mental-health/content/how-can-bankruptcy-affect-your-mental-health-psychologists-offer-copi